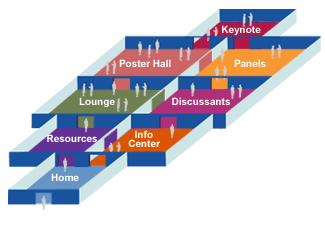 This conference took place from May 13th to May 22nd 2003. It was hosted by the Center for School Reform at TERC in Cambridge MA, and was funded by the National Science Foundation. Although the conference is now over, you can still read the keynote address given by Deborah Loewenberg Ball, visit the posters presented by 23 Local Systemic Change projects, or read the engaging panel discussions. All of the interactive discussions that took place during the conference have been preserved in this archive. If you need any help please contact us and we look forward to hearing your feedback.
The site has sound and visual enhancements that you will only see if you have Flash Player installed. It is free of charge. To download it click here.
We describe highlights of the conference below:
Keynote Address and Interactive Discussion Deborah Loewenberg Ball presents "Using Content Knowledge in Teaching: What Do Teachers Have to Do, and Therefore Have to Learn?" This keynote was offered in two parts, each with its own discussion.
Poster Hall: Twenty-three different Local Systemic Change projects have reflected on their original vision as well as factors that promoted or inhibited achieving sustainability. Each poster had its own discussion forum where presenters posed questions for visitors to address.
Panels: We are pleased to share three engaging panel discussions which took place. They are:
The Legacies of the LSC: Discussion with Mark St. John
The Role of Superintendents in Systemic Reform
Michael Klentschy, Pamela Powell, and Patricia Maruca
Teacher Leadership: Obstacles and Strategies
Joan Gilbert, Laura Harnish, Ana Lopez, Cheryl Pilatowski, and Kathryn Show
Lounge: During the conference our Lounge housed an instant message center which is no longer available now that the site is archived. There is also an Open Discussion, which you can access, where participants shared their thoughts on the conference.
Discussants Reflect: Our invited discussants, Deborah Loewenberg Ball from the University of Michigan, George Hein of Lesley University, Judi Fonzi of the University of Rochester, and James Stigler, of UCLA interacted with poster presenters and panelists and have provided summary reflections on this conference.
Resources: Highlights from past virtual conferences and additional articles of interest are provided in the resource section.
Info Center: Send us your feedback here.
We look forward to hearing from you.
Joni Falk and Brian Drayton
Principal Investigators
---
Related Sites:
Please visit two other virtual conferences that addressed sustainability of systemic change.
They can be found at:
http://sustainability2002.terc.edu
http://sustainability.terc.edu
Also please visit MSPnet at:
http://mspnet.org
An electronic community created to support NSF's Math Science Partnership Program.
---
| | | |
| --- | --- | --- |
| | This site is supported by the National Science Foundation. Opinions expressed are those of the contributors and not necessarily those of the Foundation. | |