Original Vision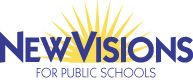 In 1999 the Middle School Mathematics Standards Project began as a collaborative effort involving New Visions for Public Schools, the New York City Department of Education, four local Community School Districts and the City College of New York. (MS)2 was designed to help meet the demands of standards based learning and teaching at the middle school level.
Strategies to support teachers and administrators in this process include:
Creating viable study groups where teachers can strengthen mathematics content, examine student work, and develop teaching practices that support inquiry based learning.
Supporting teacher leaders in helping them to assume a role of leadership where they model listening, shared leadership and work to keep the focus on developing teachers' mathematics content and teachers' understanding of how to design coherent instruction - not on adminstrivia.
Providing opportunities for principals to develop a thorough understanding of concrete strategies needed to successfully support learning communities. Principals need to know how to monitor the progress of study groups, how to effectively communicate with teacher leaders and they must ensure that there is time and space provided for study groups to meet regularly. They must also run interference to ensure that teachers are not involved in adminstrivia during study group sessions.
Providing networking opportunities for teachers, administrators and districts.
Providing support for assistant principals who are responsible for direct supervision of mathematics.
Informing the efforts of teachers, administrators and students as they grapple with creating environments that are centered on student and adult learning.
Providing opportunities for partners to come together to examine and analyze data about students, teachers, schools, administrators, and the change process.